The Power of Timely and Relevant Content
Deliver The Right Message at the Right Time During Each Stage of the Customer's Journey
Book a Demo
Download Brochure
Keep Your Loan Officers Competitive
With the right content strategy, you boost their competitive advantage by allowing them to stay effortlessly engaged with their customers. Having a robust content library takes you a step ahead and helps your team achieve
Enhanced engagement with prospects, customers, past clients and referral partners
Delivery of impactful content at the right time
Strategic engagement across all teams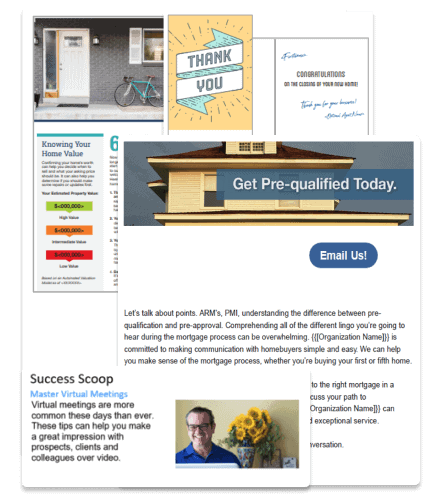 Personalized Content Touch Points
From social media content, to email campaigns, we simplify how you keep in touch with your customer and referral partners.. Using technology and automation, our marketing content can be easily implemented and your team can track the results. Our mortgage professionals create the content that can prompt a customer's response and your team can leverage our platform to automate the delivery.
Here's what our Content Library Includes:
Thank you cards at closing
Annual neighborhood market trend reports
"You have CRMs that are just looking at the marketing side, but didn't follow the pipeline. [With Insellerate], I can see what cost of lead is. I can see the cost of credit. I can see cost of application. So it allowed us to narrow down our marketing and make our marketing better, and we can see analytics where to market."
It's Easy As 1-2-3 To Get Started
01
Book A Demo
Schedule a personalized walk through of Insellerate's Customer Experience Platform.
02
Transform The Journey
Transform your customer's journey by serving up relevant, timely, content through multiple channels to maximize engagement.
03
Create Customers For Life
Partner with Insellerate to transform the customer journey from transaction to relationship.