How many opportunities have you lost because you:
Couldn't follow up on a lead fast enough?
Lacked the right data and strategy to help your borrower?
Didn't stay connected and engaged to the customer after the deal was done, so you could pick up repeat business?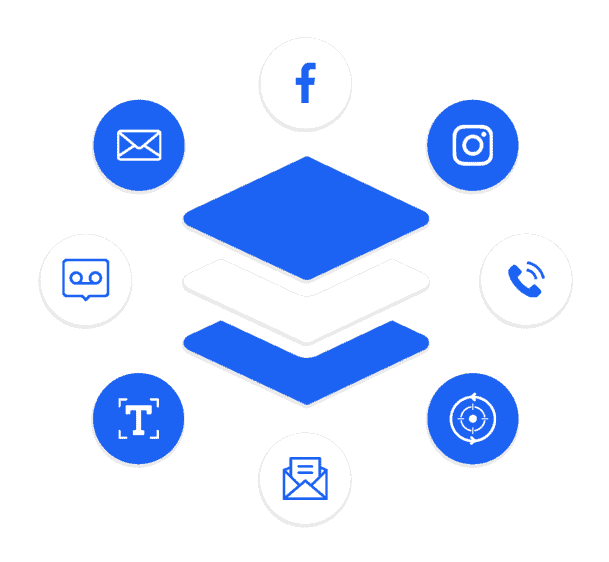 Acquire More Customers Through Borrower Engagement
The customer journey must be personalized and involve real-time interactions that are tailored to each customer and, where possible, deliver true wow moments that leave a lasting impression. Our Engagement Platform can help YOU figure out how to use and interact with YOUR customers and referral partners digitally, to increase engagement. Here's how!
Contact Strategy Management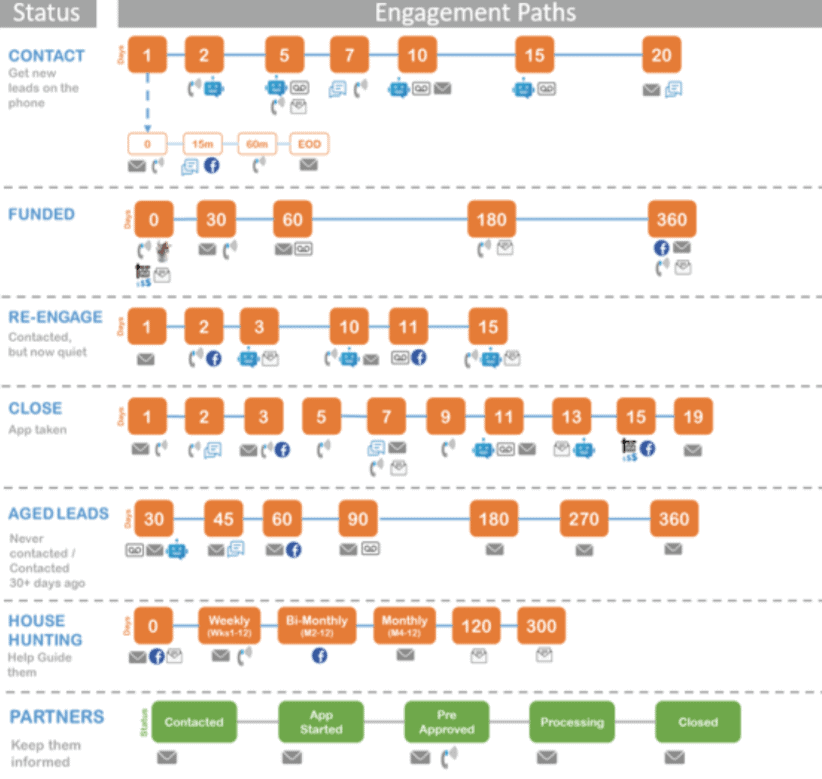 Grow Your Business By Nurturing Every Opportunity To The Close And Beyond
If you want to stand out in this competitive industry, generate more leads, and learn how to close more loans, you need to build relationships with your customers, and referral partners to make the loan process personal. One in five customers choose their lender based on a recommendation from a friend – a recommendation that is greatly influenced by customer engagement and satisfaction (93% of engaged customers said they were extremely likely to recommend service to a friend, vs. only 3% of the actively disengaged segment), according to a Gallup Poll. Staying engaged with your customer and referral partners sets you apart from other lenders, and grows your business. To communicate and genuinely connect with today's consumers, lenders need to personalize touch points throughout the customer's journey, while making each engagement relevant to the prospect's specific business requirements.
At Insellerate, we help you transform your borrower's journey by serving up relevant, timely content through multiple channels to maximize engagement, therefore significantly improving conversion rates for lenders. Lenders get access to our entire Engagement suite, through the Insellerate Customer Experience Platform.
Get On-Demand Access To Your Loan Data
Reply Quickly To Your Borrower's or Referral Partners Request
It's all about timing and keeping the momentum with your borrower and referral partner engagement. Whether you're in your office, working remotely, in a meeting, or at your kid's sporting event, you have the solution to:
Get incoming leads directly to your phone + interact with borrowers and partners instantly
Access loan files remotely without having to go into the LOS
Get lead alerts from your website, Zillow, or Lending Tree
As a result, your customer is contacted in less than 30 seconds. Imagine you have instantly given an informed answer to your borrower's request. The opportunity keeps progressing, and all while you are not even in the office. And instant engagement equals higher conversions!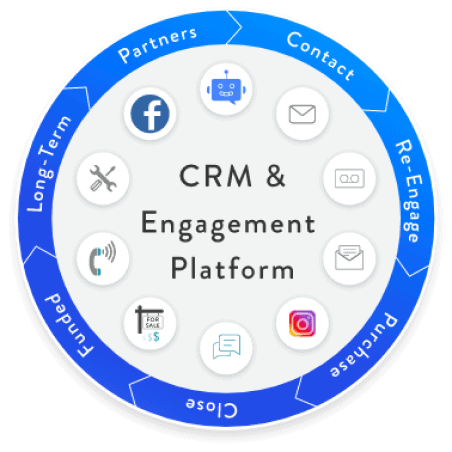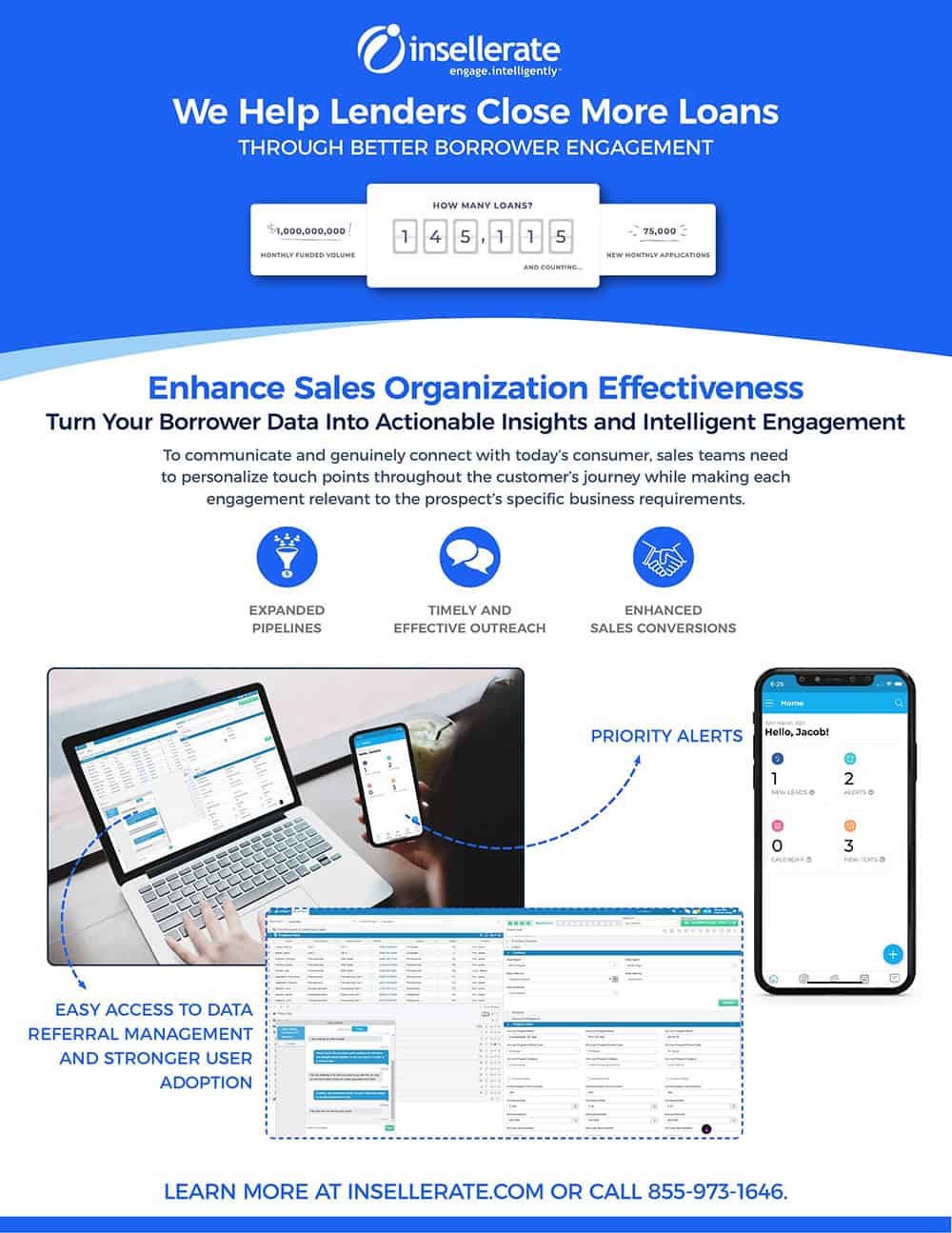 Organize Your Day For Top Efficiency
Keep yourself informed throughout the day and organize your priorities. You'll know exactly where to spend your time.
The Insellerate Engagement Platform sends alerts to your home screen, such as:
Prioritization alerts to easily organize your day for top efficiency
Calendar alerts for requests, invites or other information
MARK FOLEY
MARKETING TECHNOLOGIST, LOAN ORIGINATOR
HOMESTEAD FUNDING CORP
"One of our main goals by transitioning to insellerate was to move our consumer direct and our retail platforms to one CRM system."
It's Easy As 1-2-3 To Get Started
01
Book A Demo
Schedule a personalized walk through of Insellerate's Customer Experience Platform.
02
Transform The Journey
Transform your customer's journey by serving up relevant, timely, content through multiple channels to maximize engagement.
03
Create Customers For Life
Partner with Insellerate to transform the customer journey from transaction to relationship.